Orthopaedic Surgery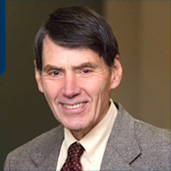 Dr. O. Barry McKinley is a board certified Orthopaedic Surgeon specializing in Adult Reconstructive Surgery of the Hip and Knee.
After obtaining his Medical Degree at Temple University, Dr. McKinley went on to complete his Orthopaedic Residency Training at Stanford University and a Fellowship in Total Hip Reconstructive Surgery with the father of modern hip replacement, Sir John Charnley in Wrightington, England.
Sir John Charnley invented the low friction hip replacement in the early 1960s and created the Center for Hip Surgery at Wrightington, England. Surgeons from all over the world made their way to Wrightington to learn his techniques. He was a master surgeon, innovator and bio-engineer.
After spending time in England with John Charnley, Dr. McKinley returned to the United States and joined Berkeley Orthopaedics where he has been performing total hip and knee replacements for over 20 years. In 2011 he retired from performing surgeries and is now seeing patients at Cal Sports & Orthopaedics.
Barry McKinley MD is a fellow member of the American Academy of Orthopaedic Surgeons and the Alameda Contra Costa Medical Association.